McElroy Manufacturing Corporation
McElroy Manufacturing built Morse Code trainers, keyers, and recorders. The company had executive offices in Littleton, MA, a sales office at 453 W 47th Street in Manhatten, and a small factory at Telegrapher's Lodge near Littleton.
The connection between McElroy and TMC came to light recently upon discovery of a McElroy flyer that not only listed the equipment the company built, but also described the the company's facilities and listed the company officers. These latter included T. R. McElroy, J. F. Rigby, Ray H. de Pasquale, and W. J. Galione. Ray de Pasquale and Bill Galione were, of course, also founders and executives at Technical Materiel Corp. Ray de Pasquale is listed as the Sales Manager for McElroy and Bill Galione is listed as Assistant Sales Manager. Frank Rigby was evidently in charge of training "thousands of members of the armed services in automatic telegraphy.." claiming 30 years of experience in personnel and training work.
McElroy Electronics History
The McElroy family fortunately has been great about preserving the history of the companies that have carried their name. T. R.'s very interesting life and career is described at
T. R. (who was, in fact, named after Teddy Roosevelt!) won awards for his code transmission (56.5 WPM) and copying (an amazing 70 WPM) skills in 1922. In 1936 he founded T.R. McElroy Products, building the "MAC Key" (we would now call this a 'bug') as his first product. In 1941 he founded McElroy Manufacturing, with a factory located on Brookline Ave in Boston, building everything from keys to high-speed wireless equipment. By war's end the company was grossing $5M in sales, and had won an "E" award. T. R. sold the company in 1956 and "retired", though his career included a political office run that year, and having a mountain in Antarctica named after him!
There is considerable information about a later incarnation of McElroy Electronics company history at:
Jack McElroy (1926-1994) was the son of T. R. McElroy, and evidently had a long and distinguished career in the electronics industry, outlined in the webpage above. He joined his father's company, the subject of this page, in 1951, after leaving the Navy, worked his way up through the ranks, eventually becoming Vice President and General Manager. Apparently T. R. sold the company to a Chicago firm in 1956 without bothering to inform his son. Jack continued with the company, but was 'demoted' to Contract Administrator. Jack went on to found McElroy Electronics, which still exists today:
The MP-1 Morse Package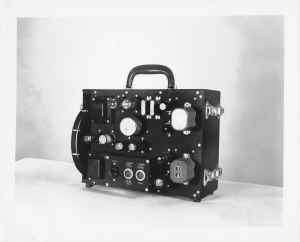 TMC's photos and catalogs include the MP-1 and MP-1A "Morse Package", shown above, but it was clear from the example of the MP-1A in the Antique Wireless Association Museum that the MP-1(A) was built by McElroy. The MP-1 contains a Wheatstone perforator, a tape reader, and tape inker. See:
Thanks to a good friend, I was given an amazing little item at the 2015 Dayton Hamvention.. the one, and very likely the only, TMC Morse Relay Keying Unit, MRK-1, shown below:
| | | | |
| --- | --- | --- | --- |
| | | | |
| Front view. Tag says "MRK-1, Serial 196" | Rear view. | Top view. | Top/rear view. |
The really interesting question about this little beauty.. was it actually made by TMC in its very early days, or made by McElroy and re-sold by the infant TMC? As to its manufacturing date, the plug-in electrolytic has date code "12-50", so the MRK-1 is likely 1951 or later.
Dating the McElroy Flyer
The discovery of the flyer sheds some light on the connections between the two companies.
Irritatingly, there is no date on the flyer. Ray and Bill both have significantly more hair in the McElroy photos than they do in their photos in the first 1959 Annual Report, so this connection clearly predates the late 50's. Information on the Jack McElroy page, including the sale of the company in 1956, strongly suggests that Ray and Bill were corporate officers well before that date. This must be so in any case, since T. R. McElroy's son Jack was VP by the date of the company sale. T.R.'s short bio in the flyer says that he has "30 years in the communications field as operator, manufacturer, and executive". He was born in 1901, and was already a world-champion telegrapher by 1922, so if we date his career from 1922, the flyer is most likely from about 1951-52.
How did two of TMC's founders end up as corporate officers at McElroy Manufacturing, well after TMC's founding in 1946, and what, if any were the connections between the two companies? Another mystery: how did the fairly substantial McElroy Manufacturing Corp, with its factory on Brookline Ave in Boston, shrink to the point that its manufacturing occupied T.R.'s "Lodge" near Littleton MA ? Was this the result of loss of the war-time market that affected so many technology companies in the late 40's?
If you have more information about McElroy, please get in touch at

.