Northern Radio
Northern Radio had an interesting relationship to Technical Materiel Corp.
It was a sister company, since its founder Salvatore Barone, worked as Chief Manufacturing Engineer for Ray de Pasquale (Director of Manufacturing) at Press Wireless during WWII. As the war wound down, Press Wireless fell into financial difficulties and laid off most of its engineering staff, thereby creating several new companies (not unlike Silicon Valley today).
The ad below was clipped from the March 1944 issue of Electronics magazine: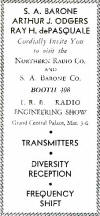 From the date of the ad, it appears that Northern Radio (and S.A. Barone Co.) was founded sometime in 1944, while Press Wireless was still in full war-time production, and before the Long Island City PreWi plant was built. Barone was still employed by PreWi as late as the ground-breaking for the plant in July of 1945. One wonders how Barone managed to get permission from his boss (Ray de Pasquale) to start his own business while still employed by Press Wireless. TMC was founded after the war, with a start date of September 1947, so it's reasonably clear that Ray was full-time with Press Wireless, at least until after the war, when PreWi got into financial trouble and laid off most of its engineering staff.
An examination of Northern's early products shows that their industrial design was very similar to TMC's, and also like TMC, Northern equipment was very well designed and beautifully made.
The company was a competitor as well. In the early days of both companies, there were competing products, including the XFK (TMC) vs the Model 105 (Northern), and the VOX (TMC) vs the Model 115 (Northern). The designs were similar, but not identical.
TMC also used Northern equipment as subsystems in their military systems, so Northern was a collaborator/supplier, in some cases.
A history of Northern Radio needs to be written.. Hint, hint! I'm happy to collect information for this project, but I've been in touch with one of Sal's descendents, who's interested in doing this history, so for now, I'll pass it along to him!
Catalogs
The following brochures and catalogs provide by the Antique Wireless Association Museum Library, with many thanks to Duncan Brown!
General Equipment Catalog
Brochure of Multi-Channel Telegraph Systems
RF Communications, Inc. Brochure, listing Northern Radio Equipment

(Northern was acquired by RFC in late 60's)
Manuals
Some of these manuals were contributed by other collectors.. THANKS! These manuals are hard to come by; if you have any of these on hand that are not listed here, please consider either scanning your manual and sending the scan to me, or lending me the manual for a short time for scanning!
Demodulator Type 104 Model 3
Frequency Shift Keyeter Type 105 Model 4
Variable Master Oscillator Type 115 Model 1
Dual Frequency Shift Tone Converter Type 152 Model 1
Dual Frequency Shift Tone Keyer Type 153 Model 2
Adapter Unit for Tone Keyer, Type 163 Model 1
Frequency Shift Diversity Converter Type 174 Models 3/3A
Frequency Shift Diversity Converter Type 174 Model 3
Frequency Shift Tone Keyer, Type 211, Model 1
Line Battery Power Supply Panel, Type 227, Model 1
18-Channel Transistorized Voice Frequency Telegraph System, Type 230 Model 1 and 16-Channel Transistorized Voice Frequency Telegraph Diversity System, Type 235 Model 1
Line Amplifier, Type 236, Model 1
Loop Current Control Type 238, Models 1 & 2
Dual Frequency Shift Tone Keyer Type 244, Model 1
Power Supply Type 251 Model 3
200Kc Monitor Amplifier Type 752