TMC Plants and Facilities
This page contains a directory that'll take you to photos of various TMC plants and facilities. There are also a bunch of photos, mostly of production lines: I could use some help identifying which plant each of these were taken in.
| | | |
| --- | --- | --- |
| Mamaroneck Plants | | TMC started business in Mamaroneck, NY, and the company's business offices remain there to this day. |
| Clarkstown (Nyack) Plant | | TMC needed more space, and better electrical power, to keep up with the demand for its high-power transmitters. The transmitter plant, built in 1960-61, was located just south of Clarkstown, NY, right next to the NY Thruway. |
| Virginia Facilities | | TMC Power Systems was initially located in Alexandria, VA, then moved to a facility in Springfield, VA |
| Arizona | | This facility mainly built crystal filters for the company's receivers. |
| California | | The company had several facilities in California.. A "Systems" office in San Luis Obispo. The photo to the right included the caption "Our new 20,000 square foot Research and Crystal Filter Manufacturing Facility at San Luis Obispo, California." |
| Texas | | TMC built this facility for TMC Systems in 1961. |
By the early 60's, TMC was selling systems world-wide. Below is a map of TMC installations, probably constructed in about 1964 (click on the image to view it full-scale).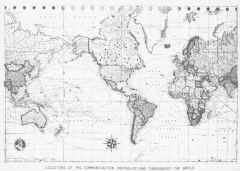 The photos below are of various production lines. If you recognize any of these facilities, please give me a hand putting them with the correct facility.
| | | | |
| --- | --- | --- | --- |
| | | | |
| Photo dated Nov 24, 1964. Front marked "Page 23A". | This photo is dated May 15, 1964, and has "WFA" written on back. Photo by Wagers Photography, 8645 Higuera St. San Luis Obispo, CA. It appeared in "Voice of TMC" #3, page 1. | No info. Antenna multicouplers ready to head out the door. TMC Canada? | No info. Looks like GPT-10K tank coils. |
| | | | |
| S6610.29-2 | No info. Appears to be a bunch of SWR-1K's on a production line, along with TOC's. TMC Canada..? | D6612.6-4 | |
| | | | |
| | | | |